Neon isn't going anywhere. In fact, fluorescent shades like yellow, green , orange and hot pink popped up once again by big named brands like Dior, HOMME PLISSÉ Issey Miyake and Louis Vuitton (yes, the one that caused a stir with Walter Van Beirendonck).
In 2019, sportswear brands were obsessed with neon fits — as evidenced by this Wood Wood editorial. Puffer coats, Virgil Abloh and MCA Chicago delivered an entire capsule centred around neon pink and green, and Balenciaga was definitely not afraid of clashing colours!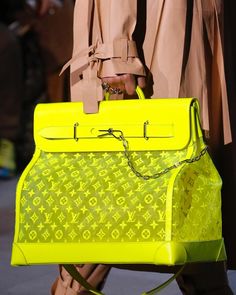 They say fashion goes in circles. Although neon is bold, it doesn't have to be eye-searing… it's easy to avoid looking like a Bic highlighter; steer clear of a full neon fit, and you're on your way. Adding small amounts of neon to your outfits allowing you to hop on the fashion 2021 trend without looking excessive and bright, avoiding looking like the highlighter duo.