Who'd have thought the face mask would end up being the must have accessory for the summer? Thankfully, with a whole array of new designs hitting our headquarters, it's still possible to make sure you look stylish while staying protected. Today, we've rounded up some of our top picks to help you find your perfect match. 
Keep It Simple
Let's start with the basics. For those who want something simple and versatile, our black knit face mask is a great choice. The soft touch material provides plenty of comfort and breathing space, and the basic black design is of course, a classic. If black isn't your colour, fear not – the soft pink knit face mask is much more gentle colour and will still keep you protected and looking stylish. Alternatively, one of our favourites right now is our effortlessly cool black signature mask which proudly displays the just hype logo across the front, showing off your great taste. Made with 100% cotton, it provides plenty of stretch and comfort along with breathing space, making it the ideal everyday essential. Similarly, our monotone allover signature mask is another great choice for helping you look stylish with minimal effort.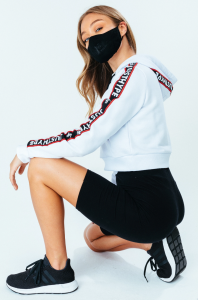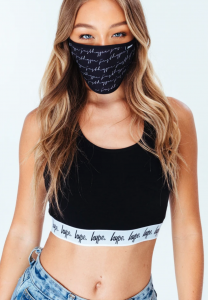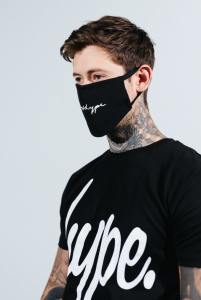 Subtle Style
If you're after something little different to basic black designs, we've got you covered there too with a whole load of simple but stylish designs. One of our favourites has to be this navy geometric face mask, which features adjustable straps for optimum comfort and fit, along with a subtle contrasting geometric pattern. For those who want a pop of colour, we have pretty much every colour to suit your mood and personality too. Channel those summer vibes with this sunshine yellow adjustable mask, which is sure to brighten your day and your outfit. The adjustable ear loops allow you to find the perfect fit while the soft touch fabric base is comfortable and easy to wear. Another of our favourites has to be the blossom face mask, featuring a subtle but colourful floral print that will bring a fun twist to your look. The soft colour palette makes the pattern highly versatile too – perfect for pairing with your everyday wardrobe.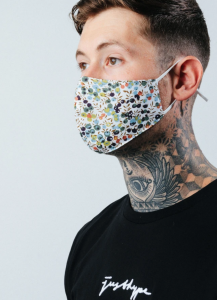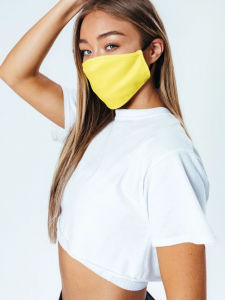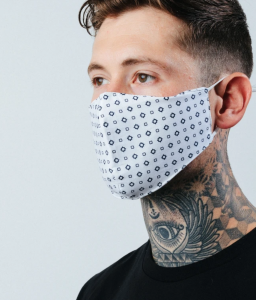 Make a Statement
If you've got the 'go big or go home' attitude to face masks, this section is for you. We've hand picked some of our favourite statement designs that will ensure you stand out for all the right reasons. We love this crayon stripes mask, which brings a fun and colourful twist to the classic black. The perfect combination of stretch, comfort and breathability, this vibrant and playful mask will keep you protected while still ensuring you look the part. What's not to love?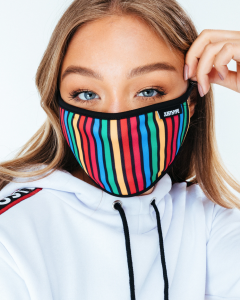 Alternatively, add a touch of magic to your day with our unicorn sparkle mask! The fabulous mystical pattern is perfect for anyone obsessed with unicorns, while the mask itself is easy and comfortable to wear. Or, you could opt for our milky-way inspired ultralight face mask which will bring vibes that are truly out of this world to your collection. We're also loving this bright and bold energy face mask too, which features an all over cloud and lighting storm print in refreshing greens and blues – perfect for keeping you safe in style. If you're looking for a whole different way of making a statement – literally – why not check out our slogan face mask edit?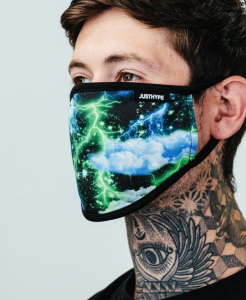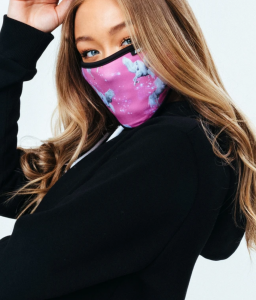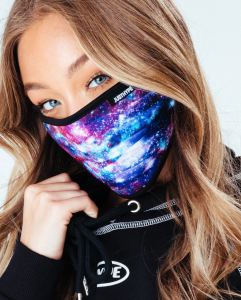 Face Mask 101
So, you've now got your mask sorted, but it's important to make sure you're wearing it correctly. Check out these simple tips to ensure you get it right each time: 
It's obvious, but ensure your mask fits fully over your nose and mouth. It should fit comfortably over the bridge of your nose, and if your chin is covered this better as it ensures a good seal all around your mouth. 

Your mask should fit tight enough to the point where you're not needing to constantly readjust it, but it should still be comfortable. If you wear glasses you may find you need a tighter fit so that the mask doesn't cause them to fog over!

Wash your hands or use hand sanitiser before and after putting your mask on or removing it. 

Be sure to wash your face mask each time before you re-wear it. 
If you need more inspiration on which face mask you should get, be sure to check out our full range of JustHype masks and you'll be sure to find a style that suits you best. Let us know your favourites in the comments!
Written by Amy Jackson – Content and Features Writer at My Favourite Voucher Codes – 19th June 2020