Okuuuur, spooky szn is here and HYPE-O-WEEN is almost in full scare mode. It's the month where we can watch horror movie after horror movie and eat popcorn bucket after popcorn bucket and no one can judge. We've put together our Top 10 movies perfect to get you in the Halloween spirit, (*in no particular order). Let us know your favourite horror film in the comments below.
THE SHINING (1980)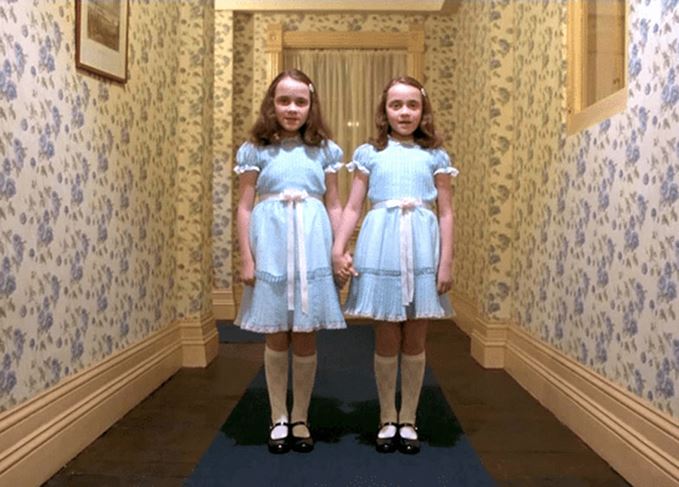 THE PLOT:
If you haven't watched the Shining, you'll have heard about it, there's no doubt about it. The Shining follows Jack Torrance (Jack Nicholson) as he becomes a winter caretaker at the isolated Overlook Hotel in Colorado, hoping to cure his writer's block. He settles in along with his wife, Wendy (Shelley Duvall), and his son, Danny (Danny Lloyd), who is plagued by psychic premonitions. As Jack's writing goes nowhere and Danny's visions become more disturbing, Jack discovers the hotel's dark secrets and begins to unravel into a homicidal maniac hell-bent on terrorizing his family.
SCARE FACTOR:
There's a reason that this is the top of this veritable pile of screams. The Shining feels evil. From Jack Nicholson's deranged performance as a man descending into murderous insanity to Kubrick's relentless direction as we hypnotically follow Danny navigating the hotel corridors on his trike, this is a movie that never lets you feel safe.
HEREDITARY (2018)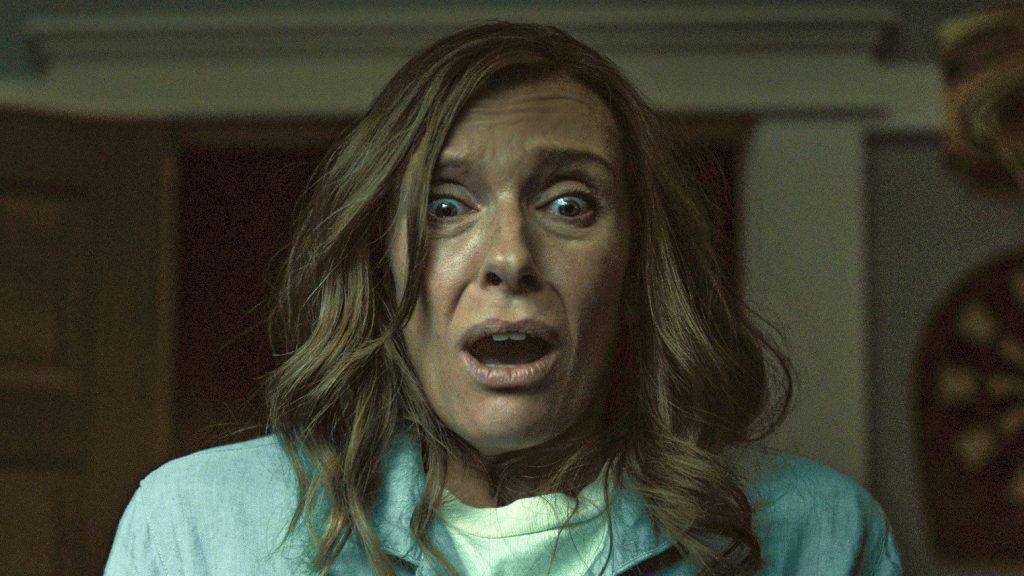 THE PLOT:
When her mentally ill mother passes away, a woman named Annie (Toni Collette) and her husband (Gabriel Byrne), son (Alex Wolff) and daughter (Milly Shapiro) all mourn her loss. The family turn to different means to handle their grief, including Annie and her daughter both flirting with the supernatural. They each begin to have disturbing, otherworldly experiences linked to the sinister secrets and emotional trauma that have been passed through the generations of their family.

SCARE FACTOR:
Nowhere during its two hour run time do you feel like you can stop and take a breath, or even make a guess as to what's coming next. Is this a supernatural movie? Is this an exercise in grief, similar to the Babadook? Is there even a difference between these two ideas? Every shot of Collette's artist painstakingly creating miniature dioramas feels like a threat and every awkward conversation between the two teenagers of the family leaves a sickening feeling in the pit of your stomach. Why? There's no putting your finger on the exact reason. It might have split cinema audiences but Hereditary is a tour de force of modern horror that will leave you reeling long after its grueling third act.
THE EXORCIST (1973)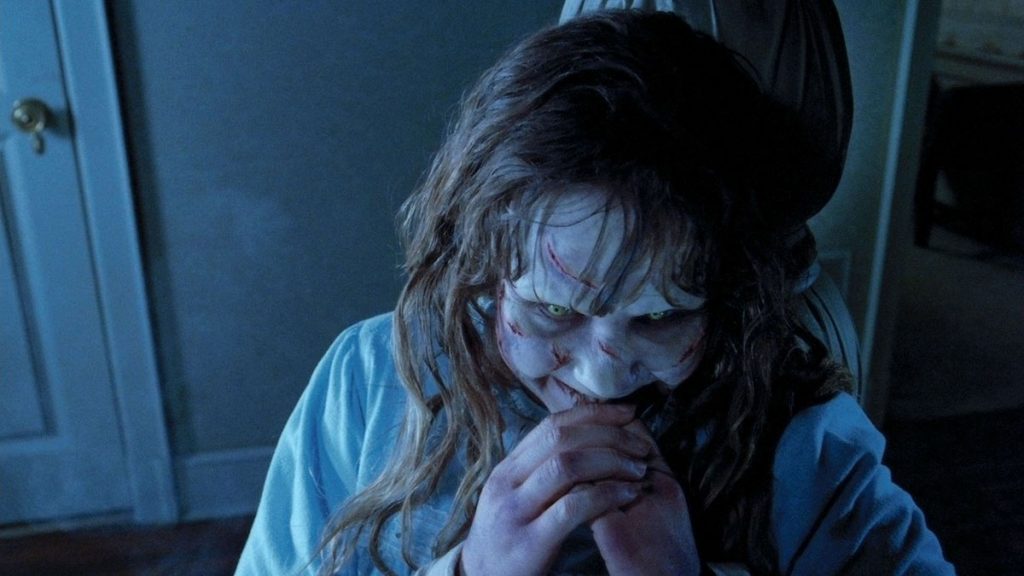 THE PLOT: 
A visiting actress in Washington, D.C., notices dramatic and dangerous changes in the behavior and physical make-up of her 12-year-old daughter. Meanwhile, a young priest at nearby Georgetown University begins to doubt his faith while dealing with his mother's terminal sickness. And, book-ending the story, a frail, elderly priest recognizes the necessity for a show-down with an old demonic enemy.
SCARE FACTOR:
Unpredictable, visceral, and primeval, this is a movie based on the simplest of premises but even in it's happiest moments, is absolutely anxiety-inducing. With a now near-mythical production, William Friedkin's relentlessness for 'authenticity' meant his actors were frozen in a refrigerated bedroom, physically pulled across sets to replicate the demon's physical prowess, and, of course, splattered with warm pea soup. The result is a horror movie that you'll probably never say you actively enjoy but will find yourself rewatching.
THE CONJURING (2013)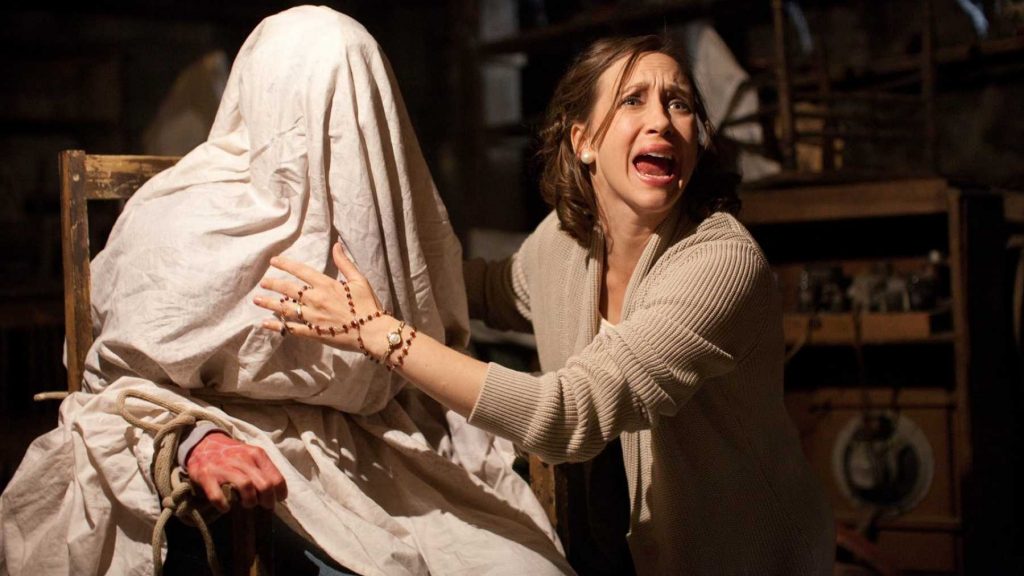 THE PLOT: 
In 1971, Carolyn and Roger Perron move their family into a dilapidated Rhode Island farmhouse and soon strange things start happening around it with escalating nightmarish terror. In desperation, Carolyn contacts the noted paranormal investigators, Ed and Lorraine Warren, to examine the house. What the Warrens discover is a whole area steeped in a satanic haunting that is now targeting the Perron family wherever they go. To stop this evil, the Warrens will have to call upon all their skills and spiritual strength to defeat this spectral menace at its source that threatens to destroy everyone involved.
SCARE FACTOR:
This is one of the 21st century's scariest films. I've even had the chills just thinking about the movie. You'll not be able to look at the top of your wardrobe the same again. This was the beginning of the Conjuring Universe, based on true events. If you LOVE a scare and you've not watched it yet, you need too!
THE BEST HORROR FILMS OF 2020:
THE LODGE
74% – RottenTomatoes
Critics Consensus: Led by an impressive Riley Keough performance, The Lodge should prove a suitably unsettling destination for fans of darkly atmospheric horror.
Synopsis: During a family retreat to a remote winter cabin over the holidays, the father is forced to abruptly depart for work, leaving his two children in the care of his new girlfriend, Grace. Isolated and alone, a blizzard traps them inside the lodge as terrifying events summon specters from Grace's dark past.
Starring:
 Riley Keough, Jaeden Martell, Lia McHugh, Alicia Silverstone
Directed By:
 Severin Fiala, Veronika Franz
GRETEL & HANSEL
65% – RottenTomatoes
Critics Consensus:
Gretel & Hansel's rich visuals satisfy, even if this adaptation of a classic fairytale gets a little lost in the woods on the storytelling front.
Synopsis:
When their mother descends into madness, siblings Gretel and Hansel must fend for themselves in the dark and unforgiving woods. Hungry and scared, they fortuitously stumble upon a bounty of food left outside an isolated home. Invited inside by the seemingly friendly owner, the children soon suspect that her generous but mysterious behavior is part of a sinister plan to do them harm.
Starring:
 Sophia Lillis, Samuel Leakey, Alice Krige, Jessica De Gouw
HOST
100% – RottenTomatoes
Critics Consensus:
 Lean, suspenseful, and scary, Host uses its timely premise to deliver a nastily effective treat for horror enthusiasts.
Synopsis:
Six friends hire a medium to hold a séance over Zoom during lockdown but get far more than they bargain for after accidentally inviting the attention of a demonic presence during an online séance and begin noticing strange occurrences in their homes.
Starring:
 Haley Bishop, Radina Drandova, Edward Linard, Jemma Moore