CURRENT CAMPAIGN
We are extremely proud and grateful to join the fight to halt the spread of
Covid-19 by helping support and protect our NHS. With key workers and people on the frontline being at the heart of the HYPE. family, this is something that is very real for us. The people behind HYPE. are experiencing the same things you are going through, the same things you are feeling, the same things you are thinking. Now is a time for us to do our part, to show our communities, our nation, that we are all in this together.
Utilising our supplies, we will be doing everything we can, the best we can, to give back to our NHS.
Stay Hype: Face Masks.
Already, the HYPE. family have donated 10,000 masks to the NHS, and that's only the beginning. We've been working closely with our manufacturing partners, and our team are diverting resources to create surgical masks. Therefore, with every purchase of our mask sets we will be donating 100% of the profit and a surgical mask to the NHS/ care homes/ key workers or persons in need.
The Legends Tee.
Fashion, clothing and creativity is our thing. It's what we do. So, we've designed a t-shirt with a powerful message behind it, we wanted to create something our customers feel proud to wear. 100% of the profits of this t-shirt will be donated to our NHS; the NHS Legends tee is designed in our standard unisex shape available in kids and adults, creating the perfect t-shirt for everyone to stand together and become one.
HYPE. x Clash Mag: Strength in Solidarity.
We teamed up with our friends over at Clash Magazine to come together to support the fight in halting the spread of Covid-19. We invited creatives to design their own versions of 'Strength in Solidarity' and what that means to them, as we stand with our communities and those battling the crisis. HYPE. and Clash's creative directors will judge and select 3 winners for each category; t-shirt, long-sleeved t-shirt and hoodie. The winning designs will be retailed at The Clash Shop and Justhype.com online, shipped in fully recyclable packaging.
40% of profits will be going to the designer to donate as they see fit.
15% of profits will go to NHS Charities together – supporting the NHS response to the Covid-19 outbreak in the United Kingdom.
15% of profits will go to MIND – supporting MIND's mental health awareness response to the Covid-19 outbreak.
15% of profits will go to the Global Food Banking Network – supporting their effort getting essential provisions to those in need, in response to the Covid-19 outbreak globally.
15% of profits will go to Warchild. – Who are on the ground right now in conflict zones globally working to help ensure that no child's life is torn apart by war.
HYPE. Cares Gifting Packages.
With the use of our every-growing social media presence, we are using our platforms to connect with our audience by creating content to encourage people to nominate their friends and family who are working on the frontline to receive special pick-me-up packages from us. The HYPE. family gifting packages are our way to personally show our gratitude and up most respect to people who are putting their lives on the line to protect us, to give back and put a smile on their faces, if you know anyone who is working in the frontline, for the NHS, Supermarkets, Care homes, Schools and so fourth, please head over to our Instagram and tag them in our posts.
HYPE. x Asylum Records: Face Mask
When two forces reunite, magic is born, in this instance, lightening bolts are created. Whilst HYPE.'s creative directors are brainstorming ideas on how we can get creative and help our NHS, we gave a shout over to our friends at Asylum Records, and a co-branded face mask was created. With 100% of the proceeds from justhype.com going to the NHS, and Asylum Records will be gifting the masks in America to those in need.
HYPE. x Link Up TV: Face Mask
Working closely with our friends over at Link Up TV, we've using our creativity to help people Stay Safe, In Style. With 100% of the profits via justhype.com being donated to the NHS, and Link Up TV will be gifting masks to those in need. The design features a sleek black and silver colour palette, uniting both brands as one with the chain and dual logo design. By using our strengths, this is enabling us to support our NHS that one bit further.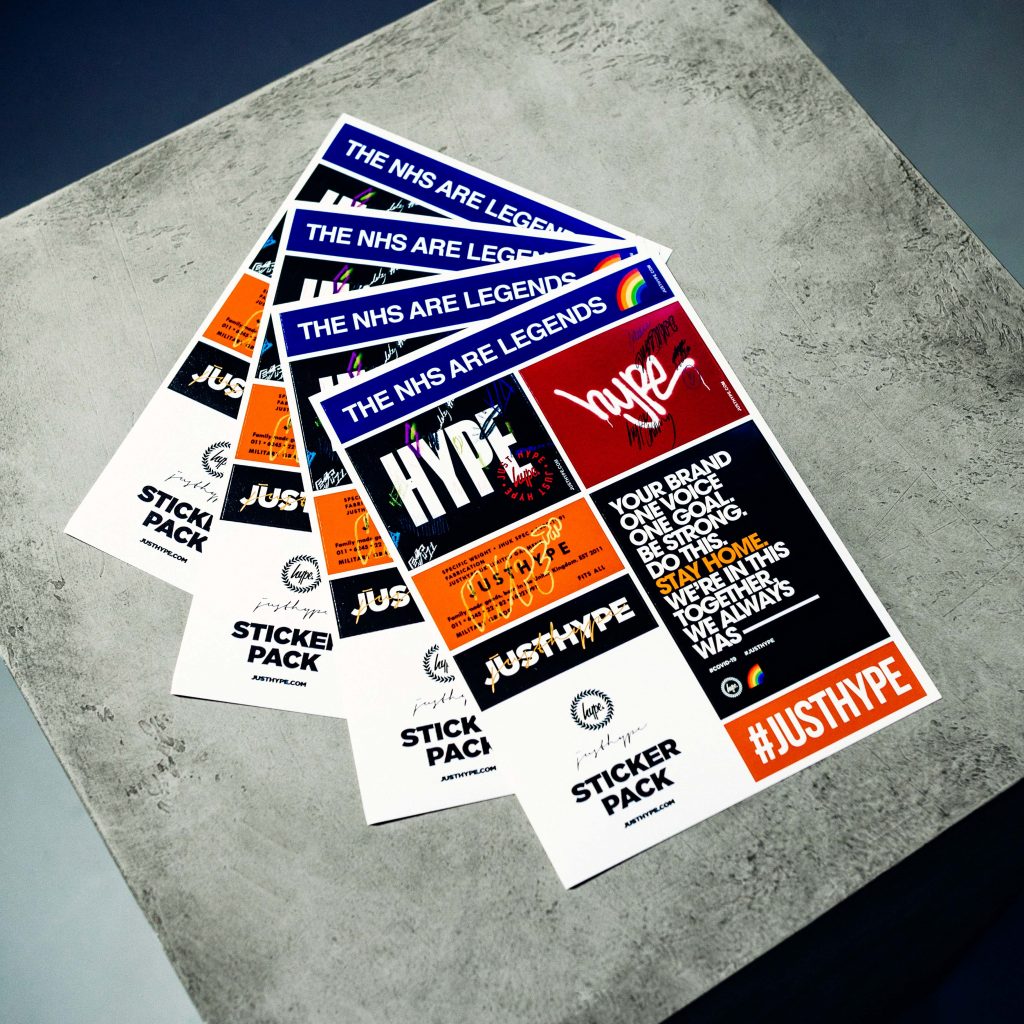 HYPE. CARES
The HYPE. cares foundation supports global charities via creative fashion. Designing and creating clothing is what we do best, so by creating one-off and mini apparel collections four times a year, this enables us to give back and support our communities, with 100% of profits donated to chosen charities.
By supporting charity partners including WarChild, LoveSpecs and The Albert Kennedy Trust enables us to grow our HYPE. family and lend a helping hand to those in need. Working with AKT, we donated backpacks and clothing to young homeless LGBTQ youths, to have clean new clothing for job interviews and their first days of school.
Aside from registered charities, we donate product to schools, helping with raising money at school fates. Every Christmas the HYPE. team put together 250 Christmas-style packages and deliver them to local Children's hospitals in Leicester a few days before Christmas eve. Donating product enables us to support both our community and our environment with waste reduction and landfill diversion.